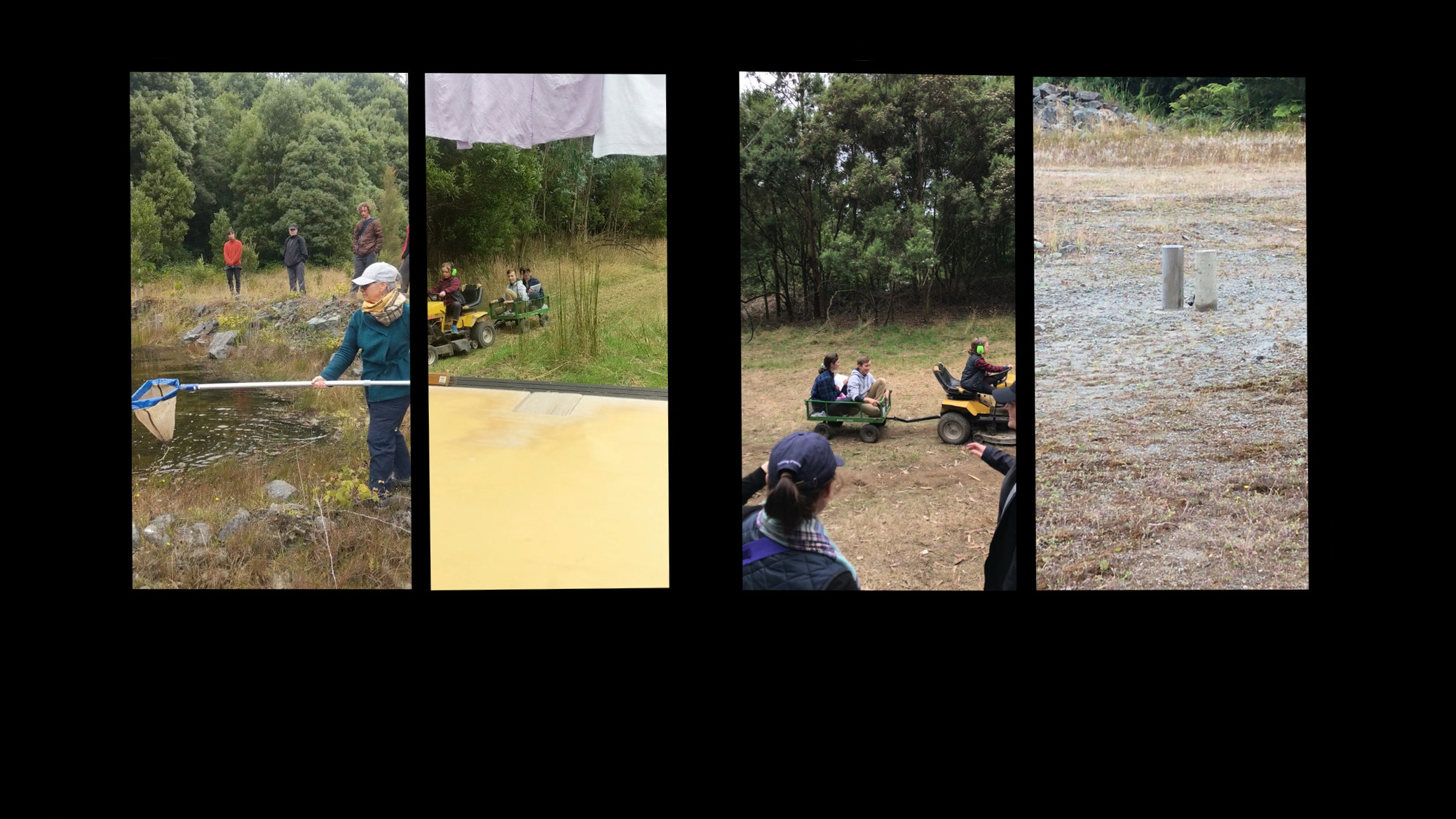 Q U A R R Y P E D A G O G I E S C A M P : B - R O L L
Video projection onto a communal bathhouse
Gadubanud Land, Beech Forest, Victoria
Quarry Pedagogies Camp Two, 2023.
Quarry Pedagogies Camp: B-roll
is a site-specific impromptu projection installation co-produced by Emily Simek and
Leitu Bonnici
. It was created in response to time spent at
The Quarry
, on the Land of the Gadubanud people in the Otway Ranges, after a week of undertaking camp workshops, discussions and activities that centred site rehabilitation, ecologies, and collective processes.
The work explores anti-archival methods as well as a collectivised, place-based approach to filmmaking, by foraging videos from camp participants-cum-cinematographers and using site-specific production practices.
Phone videos from the time at camp were gathered from participants and placed un-edited in response to the architecture of the communal bathhouse. The work was installed while campers were showering in, and brushing their teeth besides, the cubicles which acted as projection surfaces.

... I like to think of this method as compiling, or computer-piling: a means of foraging videos using a place-based methodology. The phone becomes a pouch in which to gather keepsakes. It felt important that the videos were gleaned from this place – not wired in or processed 'elsewhere.'

...The triangulation of different narratives, via pieced together B-roll footage from camper's phones, asserted the complexity, rather than uniformity, of the group encounter. In this practice, everyone is a film-maker and everything is important.

*Exerpts from 'B-roll,' publication forthcoming, 2023.



Co-produced by Leitu Bonnici and Emily Simek in collaboration with the participants of Quarry Pedagogies Camp Two: Alexandre Faustino, Belinda Smole, Brahn Smillie, Emily Wong, Fiona Runjia Chen, Gabby Alfano, Georgia Frendo, Jen Lynch, Joy Zhou, Lana Nguyen, Laura Zammit, Lena Skipper, Nicola Papaioannou, Nicolas Guerra, Olivia Wright, Peter Grant, Quinru Hu, Sophie Adsett, Tenielle Clerke, Tess Nettlefold, and Thomas Heath.

The Quarry site and Quarry Pedagogies program are run by These Are The Projects We Do Together. Photo documentation and technical support by Ivan Mašić, co-director of Little Projector Company.